FIT KING Heated & EMS Foot Stimulator | FT-036F
---



Step into a realm of unmatched foot care with FIT KING FT-036F. Meticulously engineered, this foot circulation stimulator amalgamates three renowned therapeutic methods: electrical muscle stimulation (EMS), heat, and kneading. A device that not only rejuvenates your feet but extends its therapeutic touch to other parts of the body, ensuring comprehensive relief.
Key Features:
【Comprehensive Care】Tailored to alleviate a range of conditions from leg and foot neuropathy, plantar fasciitis, diabetes, arthritis to neuritis. It's your go-to solution for acute leg and foot pains, cramps, and Restless Leg Syndrome. For a fatigue-focused solution, explore other FIT KING leg and foot massagers.
【Certifications You Can Trust】A proud FDA Cleared Class II Medical Device that employs EMS and TENS technologies to relax stiff muscles and nerves while reducing swelling. With FDA certification and FSA & HSA approval, it stands as a beacon of trust and effectiveness.
【Triple Therapeutic Action】A harmonious blend of EMS (on foot pad), TENS (with body pads), and an exclusive massage roller design offers a kneading touch. Additionally, the 4 TENS pads provide targeted relief to areas like ankles, calves, back, shoulders, and more.
【User-Centric Design】Silent operation ensures undisturbed relaxation. Its universal design welcomes all foot sizes. The remote control, especially beneficial for the elderly, makes adjustments a breeze. Explore the 10 modes (each with its pulse rate) and the 99 intensity levels to find your perfect therapeutic touch.
【Safety & Durability】 Constructed from FDA-approved medical-grade ABS material, this device promises longevity and safety. With a robust 30-day return/exchange policy and round-the-clock customer service, you are always in good hands. However, caution is advised for those under 18 or those with DVT, pacemakers, heart diseases, or pregnancy.



Elevate your foot care regimen and indulge in a massage experience like never before with the FIT KING FT-036F. Your feet will thank you.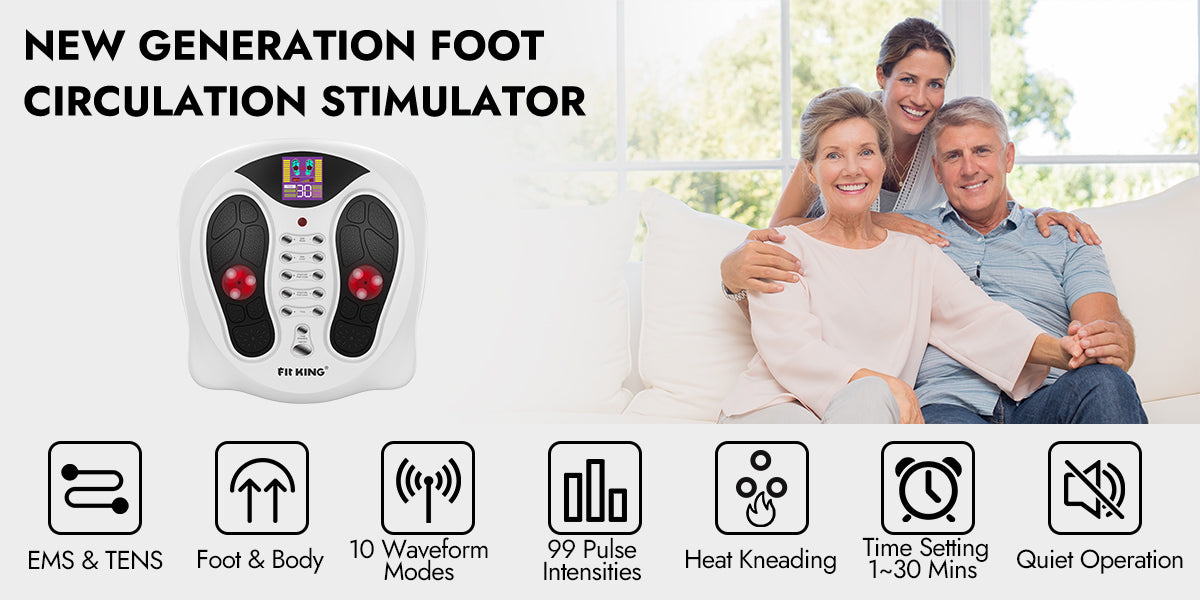 Specifications
Pakage Includes:

1 x Main Unit
1 x Power Adapter
1 x Remote Control
1 x Electrode Wire
4 x Electrode Pads
1 x User Manual

Item Name
FT-036F - Foot Stimulator with Heated Kneading
Massage Methods
Electrical Muscles Stimulator(EMS)
This product is rated 4.6 of 5.0 stars.
It has received 44 reviews.
FAQ
Free shipping for all products.
Can I return my order if I am not satisfied?

Yes, all items can be returned for a full refund within 30 days of purchase, as long as the product is unopened and unused.
How long will it take to get my orders?

Processing Time: All orders ship within 48 hours of purchase. *weekdays only
Usually 2-7 working days you can receive the product.
How to get a discount code?

You can get exclusive discounts by subscribing to our website.
You can contact us through our contact page! We will be happy to assist you.
Our customer support is available 24/7.
Average answer time: 1-2h