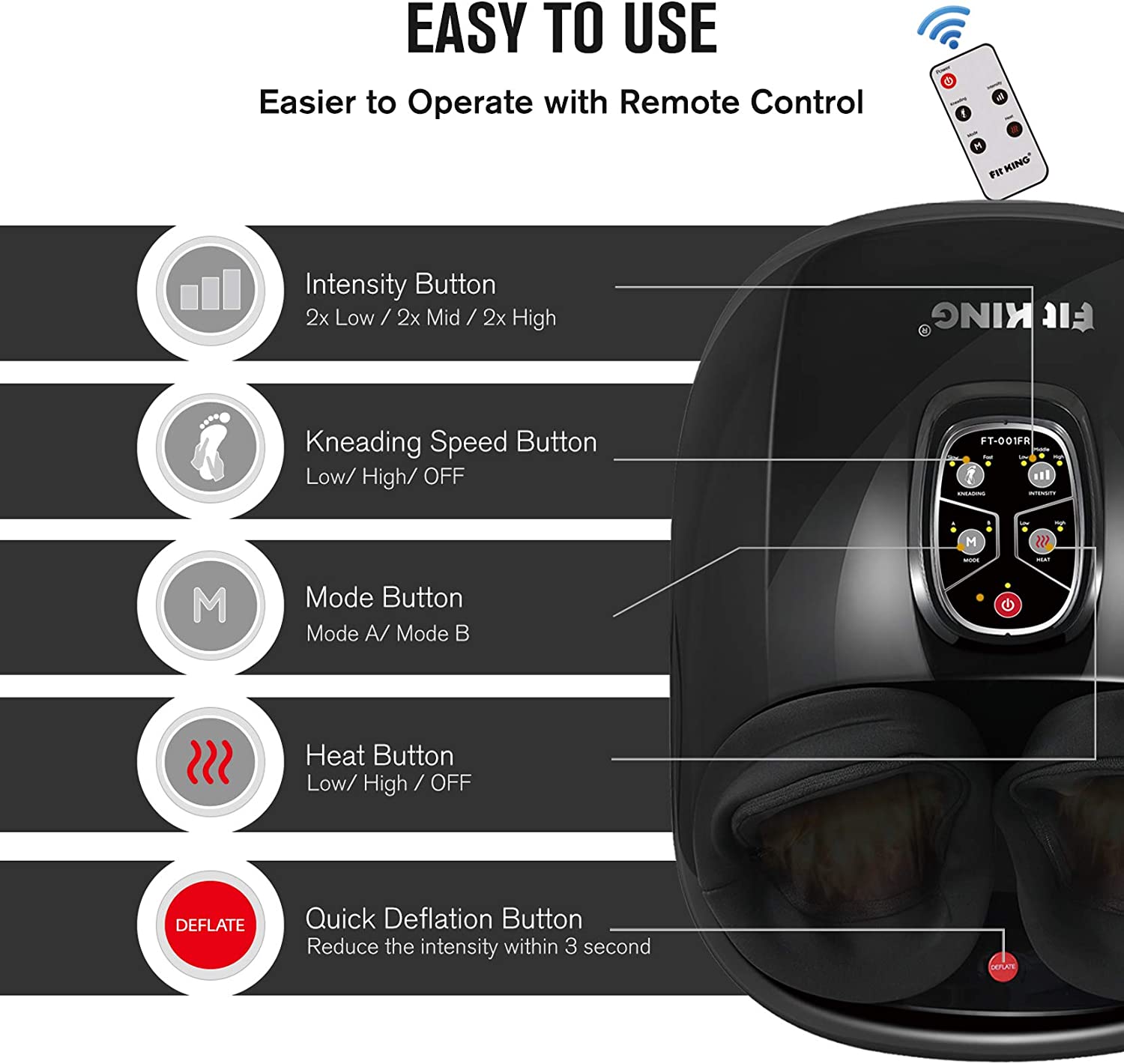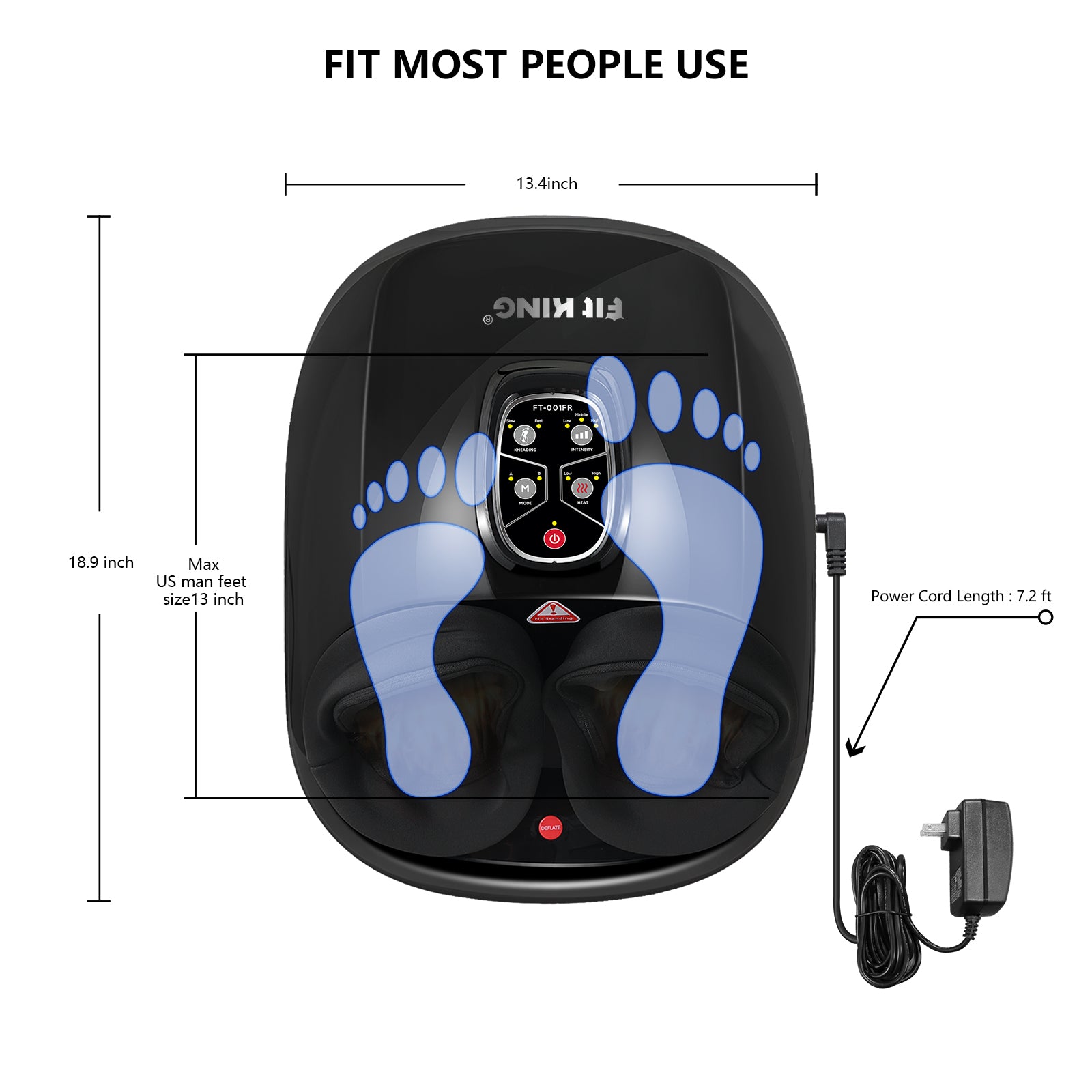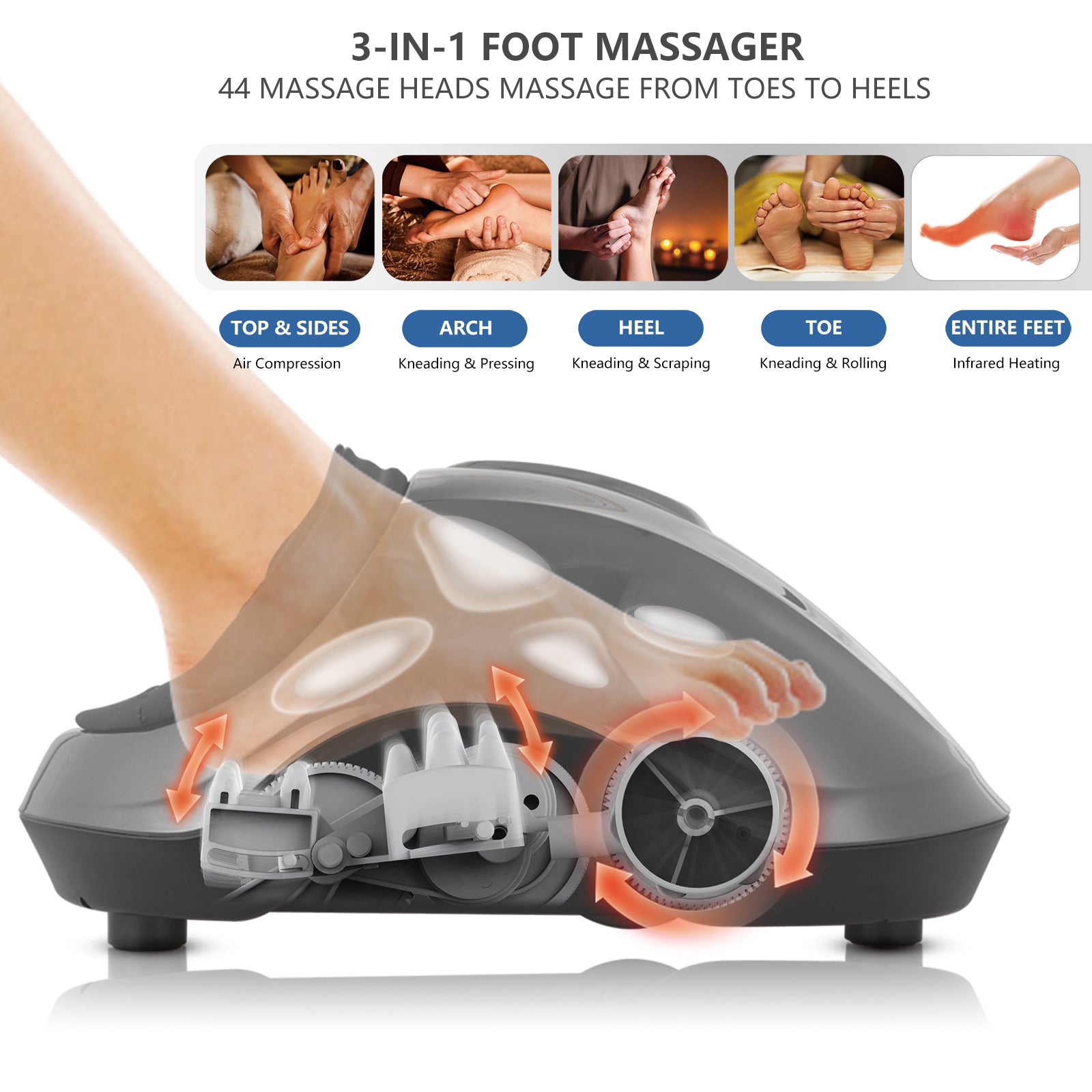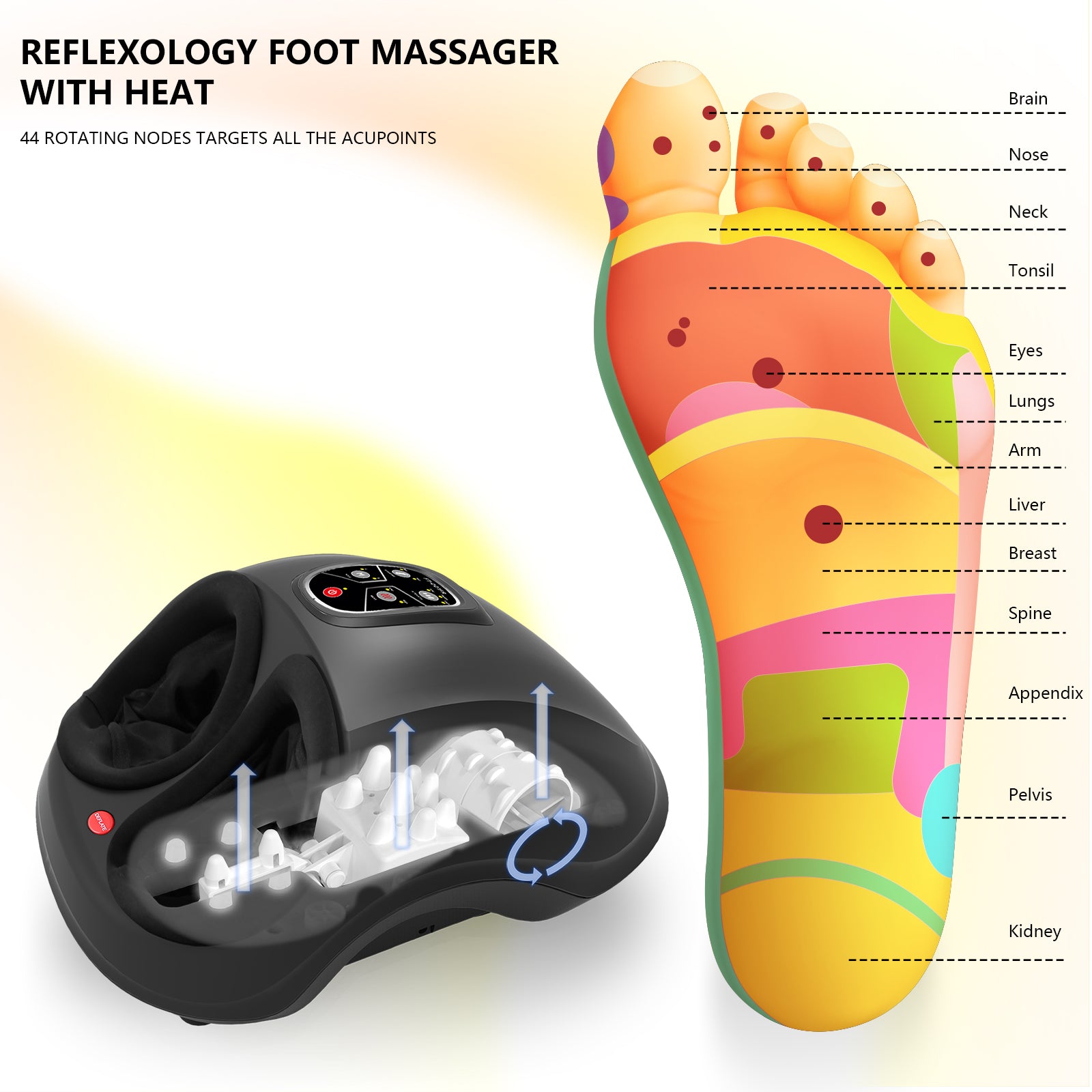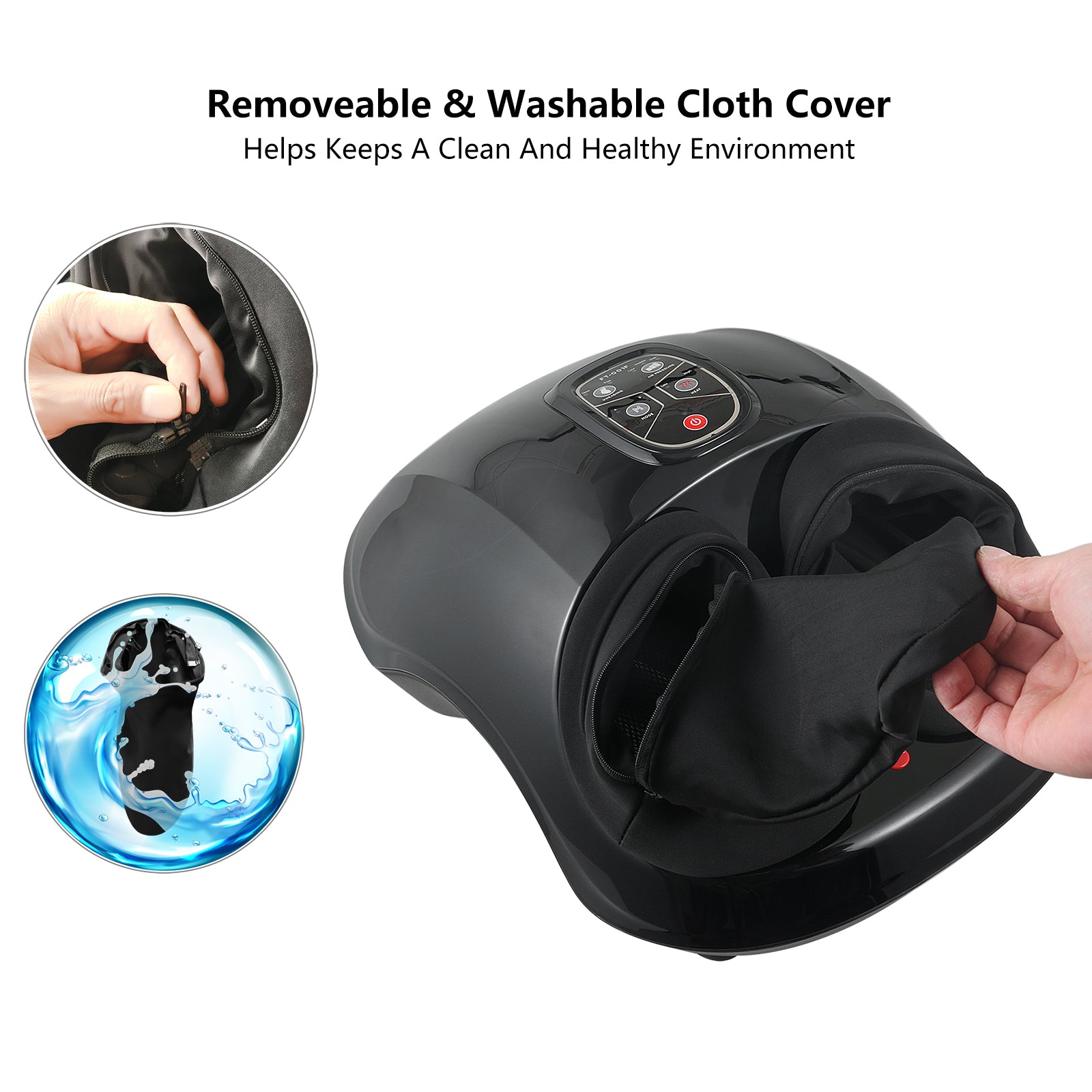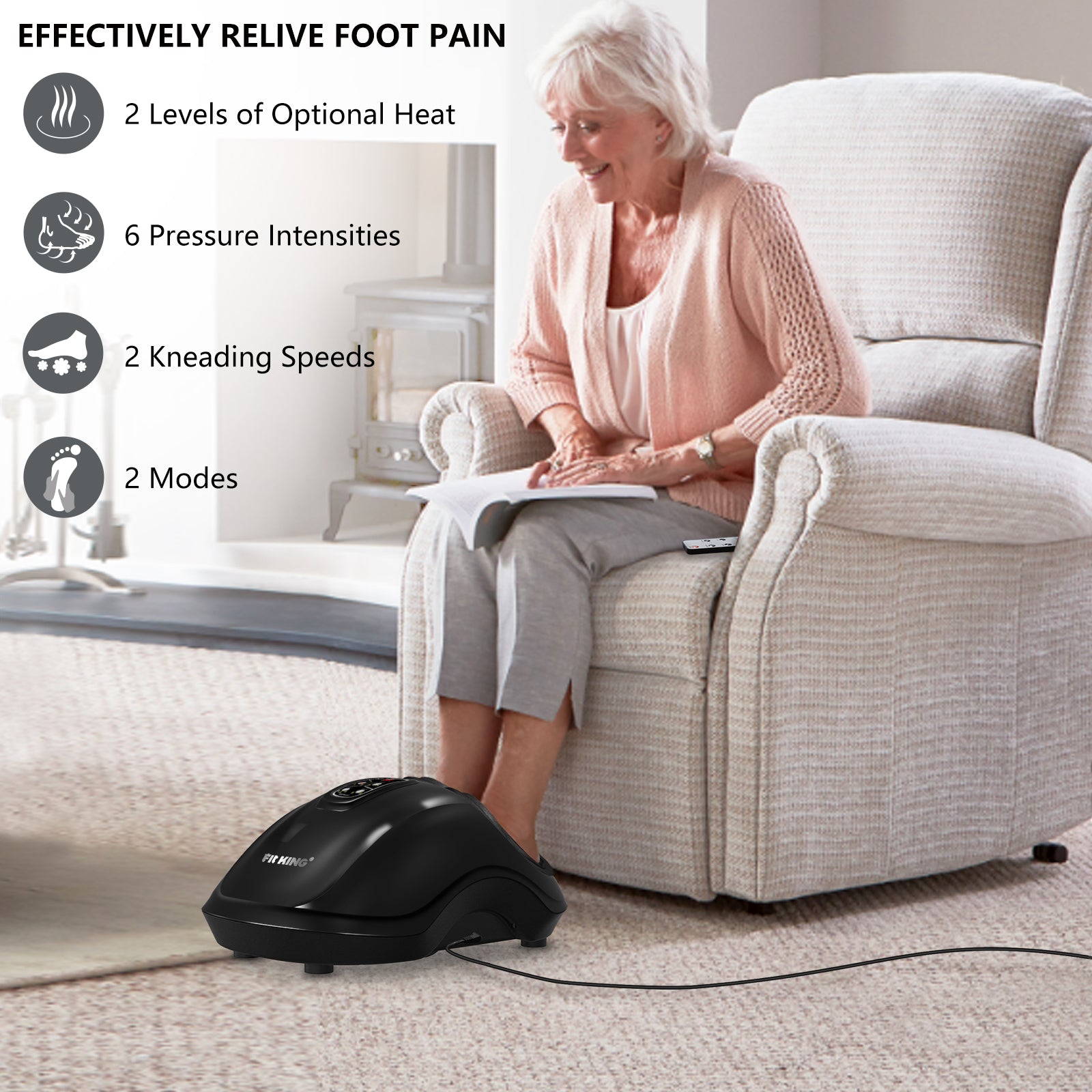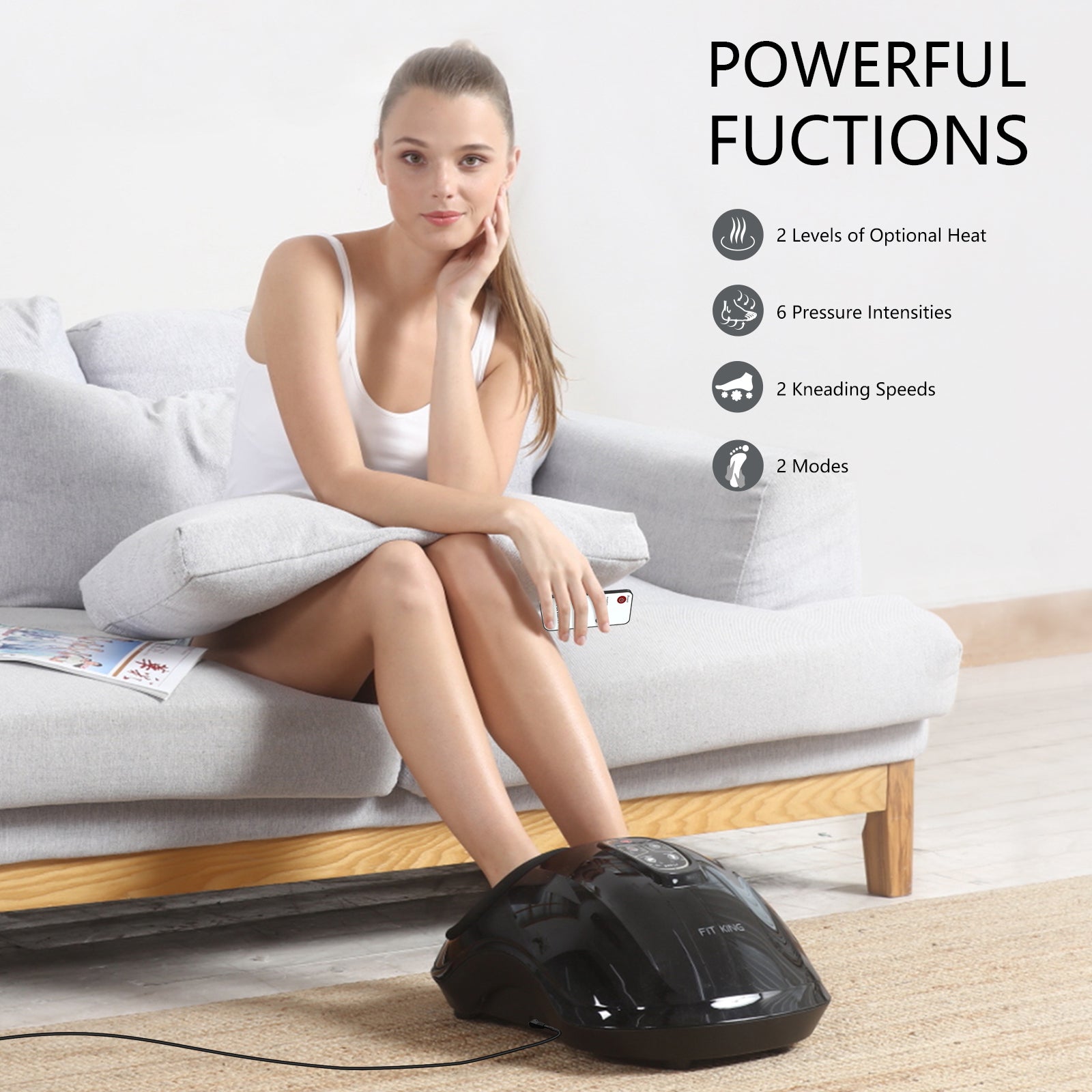 FIT KING Premium Shiatsu Foot Massager with Soothing Heat | FT-001FR
---

This device is designed to provide a comprehensive massage experience, replicating the Shiatsu technique combined with heat therapy.


Key Features: 

【Deep Kneading Massage】This feature mimics the Shiatsu massage technique, where the rollers provide deep, circular motions. This helps in targeting specific pressure points on your feet, which can aid in relieving muscle tension, improving circulation, and helping with relaxation. The deep kneading can also assist in addressing stiffness and pain in the feet, possibly offering relief from everyday fatigue and stress.

【Adjustable Air Pressure】Complementing the kneading function, the adjustable air pressure inflates and deflates to emulate a squeezing and releasing sensation on your feet. This function helps in gently stretching and manipulating the muscles, potentially aiding in pain relief and relaxation. The fact that it's adjustable allows you to customize the intensity of the massage to your comfort level, making it suitable for those who prefer a lighter touch or those who require a more intense session.

【Optional Heat Function】The inclusion of heat therapy is a beneficial feature for relaxation and enhancing the massage experience. The warmth can help soothe muscles, alleviate pain, reduce stiffness, and improve circulation. This is particularly useful for individuals who might be experiencing discomfort due to conditions like arthritis or plantar fasciitis, or for anyone who simply finds comfort in warmth to enhance relaxation.

【User-Friendly and Customizable】 Devices like the FITKING: FT-001FR are typically designed with user experience in mind. This means they often include features like easy-to-use control panels, a variety of preset programs, and the ability to customize aspects of the massage (like intensity or heat levels). These functions make it more convenient for users to tailor their massage experience according to their needs.

【Health and Wellness Benefits】 Beyond just relaxation, regular use of a foot massager can contribute to overall well-being. By aiding in stress reduction, improving blood circulation, and relieving muscle tension, it can help users maintain better overall health and possibly improve sleep quality.

【Portable and Convenient】 One of the understated benefits of such a device is the convenience of being able to enjoy a professional-level foot massage in the comfort of your own home. Its portable nature means you can easily move it to any location, and use it at your leisure, whether you're watching TV, reading, or just unwinding after a long day.


Experience Shiatsu Bliss At Home! | FITKING FT-001FR Foot Massager




Specifications
Pakage Includes:

1 x Foot Massager FT-001FR
1 x Power Adapter DC12V 3A
1 x User manual

Item Name
FT-001FR - Shiatsu Foot Massager with Heat
Massage Methods
Shiatsu Kneading & Rolling
This product is rated 4.8 of 5.0 stars.
It has received 41 reviews.
FAQ
Free shipping for all products.
Can I return my order if I am not satisfied?

Yes, all items can be returned for a full refund within 30 days of purchase, as long as the product is unopened and unused.
How long will it take to get my orders?

Processing Time: All orders ship within 48 hours of purchase. *weekdays only
Usually 2-7 working days you can receive the product.
How to get a discount code?

You can get exclusive discounts by subscribing to our website.
You can contact us through our contact page! We will be happy to assist you.
Our customer support is available 24/7.
Average answer time: 1-2h